According to an article on Military.com, biofuel technology has arrived. While several legislators fight to stop the military from pursuing the use of biofuels, Secretary Ray Mabus says the Navy will continue to develop biofuel technology for use in its ships and aircraft. During a luncheon on October 9th, Mabus said the technology is already here.
Research shows that between 2018 and 2024, biofuels will be a viable alternative fuel. What Mabus is focusing on is how to speed up that timeframe and make biofuel technology more competitive with current technologies.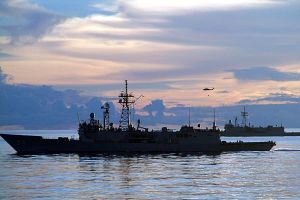 The Navy is currently putting together a "Green Fleet" of ships that use alternative fuels. They are also developing a "Green Hornet" F-18 based on the same concept they are using for their ships.
Mabus says one of the more interesting technologies the Navy is pursing is to hone the chemistry for producing jet fuel while in "theater". In other words, the ability to develop alternative jet fuel when a troop is deployed. The most promising pricess would catalytically convert carbon dioxide hydrogen gas directly to liquid hydrocarbon fuel used as JP-5, a process being developed and honed by the Naval Research Laboratory (NRL).
The article says that NRL has already successfully developed and demonstrated technologies for the recovery of carbon dioxide and the production of hydrogen gas from seawater using an electrochemical acidification cell. From there the hydrogen gas is converted to hydrocarbons that can be used to produce jet fuel.
Yet despite the promising technology, Mabus says the Navy doesn't have a favorite technology and their goal is to simply keep develop alternatives.