The Renewable Fuels Association (RFA) exhibit at the Congress of Automotive Repair and Service (CARS) in New Orleans this past week featured new engine technology developed by Ricardo, Inc. that has the ability to optimize the performance of ethanol in fuel.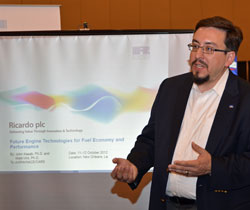 Ricardo Chief Engineer for Innovations and Chemical Technology John Kasab was one of the company representatives who presented information at the exhibit and on the Bobby Likis Car Clinic Network broadcasts from the show. During his presentation at the booth, Kasab talked about Ricardo's history in the automotive realm and how "everything old is new again" when it comes to alternative fuels. "Three key automotive inventors from about a century ago – Henry Ford with Ford Motor Company, Charles Kettering with General Motors and Harry Ricardo our founder – all anticipated depletion of petroleum reserves," said Kasab. "Henry Ford was thinking about making (fuel) from crops that will help sustain rural economies." Kettering was thinking about saving the auto industry from oil shortages and Ricardo's interest was in energy security, especially since he was British, and Kasab noted that all of them also saw the potential of ethanol for anti-knock properties.
Kasab says federal and state regulations calling for dramatically increased fuel economy for vehicles, as well as the Renewable Fuel Standard requiring more alternative fuel use, means a great need for engines optimized to run on fuels other than gasoline in the future. "Over the next decade, we're going to see a lot of new technology coming into internal combustion engines to significantly improve their efficiency," he said. "The technologies that are going to facilitate this efficiency improvement will have a natural thirst for higher octane and we see increased ethanol content in the fuel as part of the pathway toward facilitating better engine performance."
To that end, Ricardo developed the EBDI – Extreme Boost Direct Injection Engine – which we will learn more about from other members of the Ricardo team who attended the CARS event.
Listen to Kasab's presentation here: Ricardo's John Kasab at CARS
See photos from the CARS event with Ricardo, RFA and Bobby Likis.