According to a new report from the Minnesota Department of Agriculture (MDA), the state's ethanol industry generated more than $5 billion in total economic activity in 2011. In addition, the ethanol industry supported more than 12,600 jobs. The state is 5th nationwide in ethanol production with 21 ethanol biorefineries.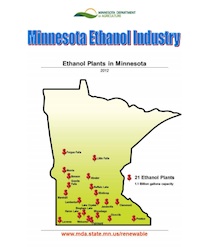 According to the MDA report, ethanol added $912 million to the value of the state's corn crop in 2011, a second record high. For every bushel of corn processed into ethanol, $2.07 was generated in additional revenue. The report also shows that for every dollar invested into the ethanol plants, more than eight dollars were generated for the Minnesota economy.
"While there have been ups and downs in the ethanol industry, the fact is it's a huge advantage for us to keep more of the value of the corn we produce rather than ship it to another state or country as a raw commodity," said Su Ye, the author of the report. "The ethanol industry is an important economic driver that adds value to every bushel of corn grown by the roughly 11,000 farmers who supply it to the plants."
Last year, of the 1.2 billion bushels of corn harvested by Minnesota growers, 440 million bushels were put into production of ethanol and its co-products including distillers grains. Forty-two percent of the corn is exported and 39 percent is processed. In comparison, 12 percent of the total U.S. corn crop is exported and 50 percent is processed. Ye says the ethanol industry continues to have a critical role in bringing increased returns to the state's largest agricultural crop.