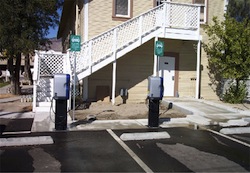 In anticipation of the growing electric vehicle market – nearly 29 different EV models will be launched and hit the lots next year – EV Connect is launching its new Dealer EV program. The goal is to make EV sales easier by helping car dealerships learn to overcome consumer concerns about owning an EV vehicle. The company has also added a dedicated Dealer Liaison Team to boost communication and build stronger relationships between EV Connect and dealerships.
"Unlike traditional vehicle sales, EV sales force car dealerships to learn a new language centered on the electric drive train, batteries, kilowatts, amps, volts, and how they affect the daily life of an EV owner. In addition, the single most frequent sales objection from potential EV buyers is regarding how they will charge their vehicle" said Jordan Ramer, CEO, EV Connect. "Dealer EV is a program through which dealers can refer EV buyers to EV Connect for charge station education, deployment solutions and management services. EV Connect will do the rest of the heavy-lifting."
EV Connect currently manages thousands of EV charging stations across the country. As part of this program, they work with EV drivers to ensure they get the information and charge station location information they need.