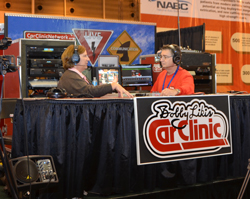 The Renewable Fuels Association (RFS), the Bobby Likis Car Clinic Network and Ricardo Engineering have teamed up to drive home the message of ethanol as the future for fuel in America at the Congress for Automotive Repair and Service expo in New Orleans.
RFA Director of Regulatory Affairs Kelly Davis has been representing the ethanol industry at the event, talking with car mechanics and technicians and being interviewed by Bobby Likis for his Car Clinic Network television show. Davis just started with RFA on September 1, but she is no stranger to the ethanol industry. "My background's 30 years in corn processing," she said. "I've actually been producing ethanol since 1981."
Listen to an interview with Davis: Kelly Davis Interview
Davis has been talking up ethanol at the CARS expo and finding that mechanics have some of the same general misconceptions the industry has fought for 30 years and that is why they wanted to speak to this audience. "A mechanic is a very trusted person with your car," she said. "We're here to educate them."
She, Likis and Ricardo representatives will be addressing a targeted group on Saturday with a panel devoted to "busting myths" about ethanol. Likis is global casting his Car Clinic Network program live from the expo on Saturday, October 12, from 10 am to 12 noon Eastern time.
Listen to Bobby interviewing Kelly on the expo floor Friday here: Bobby Likis Live with RFA's Kelly Davis