The expansion of the H-Power Energy-from-Waste (EfW) facility in Honolulu is complete. The facility is owned by the city of Honolulu and was designed, built and is operated by Covanta Energy. A third boiler was added increasing the facility's capacity by 900 tons of municipal solid waste per day, with daily capacity is now at 3,000 tons.
With the completion of the project, all of the island's post-recycled municipal solid waste is processed. In addition, the EfW plant can produce nearly 90 megawatts of renewable energy each year, which is about eight percent of the island's total energy needs.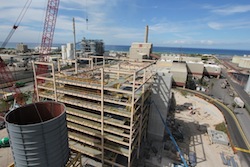 "Covanta is proud of our successful partnership with the City and County of Honolulu. The completed third boiler marks three years of hard work by the Covanta team, and celebrates the innovative thinking of the City and County in making the decision to move forward with this expansion.  The completed project brings a multitude of benefits including increased diversion of waste from landfills, reduction of greenhouse gases, more renewable energy and new jobs that will make a significant impact on Oahu's economy and energy independence," said Seth Myones, executive vice president and chief operating officer of Covanta.
The facility is estimated to reduce greenhouse gas emissions by almost one million tons each year due to the avoidance of methane from landfills, the offset of greenhouse gas emissions from fossil fuel electrical production and the recovery of metals for recycling.
"By reducing our dependence on fossil fuels and creating energy from trash, H-POWER benefits the City environmentally and financially," added Mayor Peter Carlisle. "With the third boiler, we can now divert even more opala from the landfill and continue to emphasize more recycling."