A "New Energy Future Report" has been released by the Consumer Energy Alliance (CEA) that focuses on how the U.S. can achieve energy self-sufficiency by 2020. The report reviews the availability of U.S conventional and renewable resources and the polices that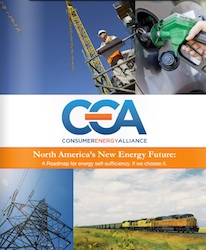 will need to be enacted to develop these resources. The report lays out a plan that incorporates elements of both Gov. Romney and President Obama's state energy policies. It also offers several recommendations to help implement the plans.
"Consumer Energy Alliance believes this report will improve the overall understanding of energy security and the thoughtful development and utilization of our abundant energy resources," said CEA President David Holt. "Energy policy greatly affects our country, and we believe it is essential that it remains at the forefront of issues under discussion by our elected officials. Our country needs sound energy policy to help maintain stable energy prices for consumers and facilitate economic growth."
A few highlights of the report include:
Expanded energy production in the United States and Canada can create of over 1.4 million jobs and generate nearly $803 billion in government revenues by 2030.
In order to significantly and effectively lower U.S. imports of overseas crude, the United States must focus on both decreasing the demand for transportation fuels and increasing North American supply of fuel.
CEA believes that North America can achieve "energy self-sufficiency" and close the gap between North American supply and demand where we can meet anywhere between 80 to 95 percent of our energy needs by 2020. This is the next "big thing."
Holt added, "America is entering the New Energy Future, one that could potentially lead to North American energy self-sufficiency by 2020. Substantial investment in the development of oil and natural gas has buoyed the economy, helping to support millions of jobs, generate billions of dollars in government revenue, and, most significantly, supply millions of consumers with affordable energy."