Paseo Biofuels is making plans to expand their biodiesel facility located in Kansas City, Missouri by 40 percent. The plant uses soybean oil as its primary feedstock and currently produces 40 million gallons of biodiesel and 30 million pounds of glycerin each year. The expansion is expected to be completed by March 2013.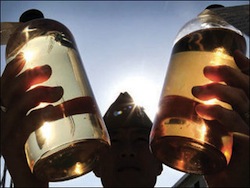 "Our partnership with Paseo has gone very well over last four years. Together, we have built an excellent operation that serves many of the major petroleum retailers in the U.S.," said Cargill Grain and Oilseed Supply Chain North America Business Unit Leader, Mark Stonacek.
The plant went into operations in 2008, and more than 650 agricultural producers have shares in the facility. Paseo Biofuels also has a joint venture with Cargill.
Dale R. Ludwig, the executive director and CEO of Missouri Soybean Associated said the business model is ideal. Having a biodiesel plant co-located with a soybean crushing facility reduces costs and saves time and money.
"I am pleased to see Missouri businesses and our agricultural producers coming together to make a significant capital investment to create new opportunities in the Show-Me State," said Governor Nixon about the expansion announcement. "This is a partnership that is growing by expanding markets for our farmers and farm families and making renewable, North American energy more accessible. We are glad to have them grow in Missouri."