The 25.2 megawatt Queen Creek Solar Farm in Queen Creek, Arizona is now operating. Owned by PSEG Solar Source, the Salt River Project (SRP) has a 20-year agreement to purchase all of the solar energy produced by the project. The solar farm is located on 148 acres of land about 30 miles southeast of Phoenix. The solar system is comprised of nearly 90,000 crystalline panels and operates on a single axis tracking system.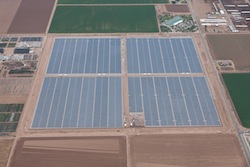 "We are pleased to be providing clean, solar energy to Salt River Project," said Diana Drysdale, president, PSEG Solar Source. "Arizona has the attributes we look for when choosing a project – good sun, a receptive regulatory environment and supportive local officials.  It is exciting to be adding Arizona to the list of states where we have operational solar facilities even while we are beginning construction on an additional site in Delaware."
The plant is estimated to produce enough energy to serve about 3,300 SRP customers' homes. The solar system requires no water, and is expected to reduce 21,000 metric tons CO2 emissions each year or the equivalent of taking approximately 4,100 cars off the road.
SRP General Manager Mark Bonsall added, "As we look for ways to diversify our portfolio, it's also important that we continue to invest in the state and the local economy. Queen Creek Solar not only provides our customers with clean energy, but it's also a resource that is located right here in Arizona."