Despite concerns over the drought in the U.S. that is effecting the corn harvest, Pacific Ethanol, whose primary feedstock is corn, raised $11 million in its public offering of common stock. The goal was achieved in less than a week. The company had also raised money two months before in an effort to raise funds to regain majority ownership in its ethanol plants that was lost when the company filed for bankruptcy in 2009.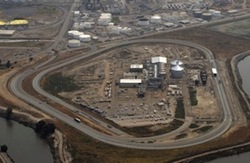 The stock was priced at 40 cents per unit on Sept. 21. On Sept. 26 Pacific Ethanol said that it had closed on its public offering of 27.5 million units for gross offering proceeds of $11 million. The company intended to use the money to repay its $10 million in senior unsecured notes that are due in April of 2013 and this has been accomplished.
Neil Koehler, the company's president and CEO, said, "The equity we raised on September 26th allowed us to repay the $10.0 million debt in advance of its maturity date, significantly reducing the company's short-term debt obligations and related interest payments. This and the recent increase in our ownership position in the plants are important milestones marking progress in our plans to improve the profitability of our business."
Pacific Ethanol now owns a 67 percent interest, or the majority share in New PE Holdco LLC, which owns the company's plants operating in Boardman, Oregon, Burley, Idaho, Stockton, California, and the idled biorefinery in Madera, California.