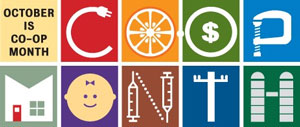 Each October, cooperatives across the United States celebrate the contributions of cooperatives to their communities during National Co-op Month and this year continues the celebration of 2012 as the International Year of Cooperatives with the slogan "Cooperative enterprises build a better world."
As one of the nation's largest cooperatives, GROWMARK has been celebrating all year long, so we talked with president and chairman of the board Dan Kelley about why co-ops are so important for agriculture, both nationally and globally. Kelley says he was surprised to learn this year that nearly a billion people around the world are members of some type of cooperative. In addition to celebrating a year and a month dedicated to cooperatives, Dan says GROWMARK has been celebrating 85 years of existence as a cooperative.

The largest division of GROWMARK is the energy division which offers a complete line of refined and renewable fuels, lubricants, additives and propane to residential, commercial and industrial consumers in northwestern Iowa and beyond.
GROWMARK's core cooperative membership is in Illinois, Wisconsin, and Iowa, but in recent years have expanded into other states including Colorado, Pennsylvania and Maryland and a solid membership in Canada as well.
Listen to an interview with Dan Kelley here: GROWMARK President Dan Kelley