Secretary of Agriculture Tom Vilsack held a town hall meeting at World Dairy Expo in Madison, Wisconsin this week and took questions from the audience, one of which concerned ethanol and the impact it has had on livestock producers.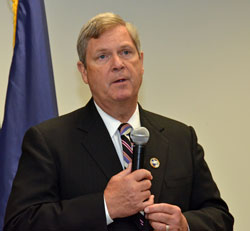 The questioner, who was from California, said ethanol was "not a very popular word" with dairy farmers in her state. "Where I come from ethanol is not a four letter word," Vilsack responded, noting that ethanol has not only helped increase profitability and production for farmers but also helped the economy, national security, and the environment. "Those are the benefits – jobs, higher incomes, lower gas costs, environmental benefits and reduction of our reliance on foreign oil," said Vilsack.
The secretary also carefully explained that because ethanol returns livestock feed to the market in the form of distillers grains (DDGS). "We hear a lot of people say that 40% of the corn crop is being used for fuel production but it's not really 40% because a third of it comes back in DDGS which is used by the livestock industry," he said. "So, it's less than 40%, more like 27 percent."
In addition, Vilsack talked about how USDA is helping the industry move into the production of advanced ethanol using feedstocks beyond corn. "We have financed at USDA nine separate biorefineries that use corn stover, algae, switchgrass, woody biomass, agricultural waste, municipal waste," he said.
Vilsack also defended the Renewable Fuel Standard (RFS) and the current request before EPA to waive that standard, noting that Congress passing a new food, farm and jobs bill would do more to help livestock producers impacted by high feed costs due to the drought than waiving the RFS would.
Listen to or download Vilsack's comments here: Ag Secretary Vilsack on ethanol at Dairy Expo