The Port Washington Public Library has added thin film solar cells to its roof's cap sheet layer to generate solar energy. The only building in Nassau and Suffolk counties in New York state to generate power this way, the system has the ability to generate an average of 42,000 kWh of electricity per year and but CO2 emissions by more than 2.2 million pounds each year. During a celebration ceremony,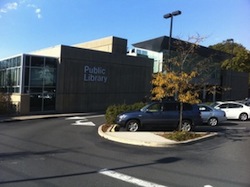 Nancy Curtin, Port Washington's Public Library Director; Garry Schwall, Chief Operating Officer of Winthrop-University Hospital; and Paul Polizzotto, President and Founder of CBS EcoMedia gave remarks while entertainment was provided by local singer/guitarist Tom Cavanagh, known to library audiences for his Johnny Cash and George Harrison performances.
The new Energy Education Station in the Library displays the actual energy savings from the system for the public to view. In addition, the green initiatives implemented by the Port Washington Public Library also includes a Recycling Center in the Children's Room.
"The Library is committed to green initiatives and as a center for lifelong learning wishes to lead by example promoting solar energy and a healthy environment for the Port Washington community," said Nancy Curtin, Port Washington Public Library Director. "This technology is a sustainable solution and we thank Winthrop University Hospital and CBS EcoMedia for their support."
As the country struggles with economic difficulties, education has been hard hit with the reduction of teachers in schools and staff at libraries. "With this project, the Library sets an important example: by adopting solar power in our homes and businesses, each one of us can cut our own energy costs and emissions," said Paul Polizzotto, President and Founder of CBS EcoMedia Inc. "Thanks to the generous support of Winthrop-University Hospital, the Library will reduce its carbon footprint and cut its electricity bills, freeing up crucial funds for books, staffing, special programming, and equipment."