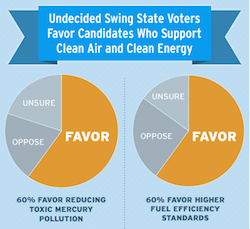 According to a poll of undecided voters in eight swing states including Florida, Michigan, Nevada, Ohio, Pennsylvania, and Wisconsin, the favored candidates for president and Congress are ones that support clean air and clean energy policies over candidates who don't. The survey was conducted by the Public Policy Polling (PPP) on behalf of the National Resources Defense Council (NRDC) Action Fund.
In this eight-state poll, the 22,412 voters side with President Barack Obama's position as a candidate who "supports EPA standards to reduce dangerous carbon pollution" over the position of Republican challenger Mitt Romney, presented as a candidate who "says that these limits would be bad for business and EPA should not limit carbon pollution," by a roughly 2-1 margin (54 percent versus 27 percent). Among all likely voters in the eight states, the margin on the same question is still wide, at 57 percent to 32 percent.
The poll shows that 50 percent of likely voters would vote today for Barack Obama, 44 percent for Mitt Romney and 6 percent undecided. Yet when the undecided voters were pressed to make a choice, 20 percent would vote for Obama, 32 percent would vote for Mitt Romney, and another 49 percent still were unable to decide.
"Mitt Romney is running behind in battleground states and he'll need to win over most of the remaining undecided voters to win," said Tom Jensen, director of Public Policy Polling. "But his stances on environment and energy issues could hurt his ability to do that. 
Jensen continued, "What we see here is that key-state voters who are still making up their minds decisively favor candidates who support standards to reduce carbon pollution and mercury pollution. Romney's views are at odds with the very centrist voters he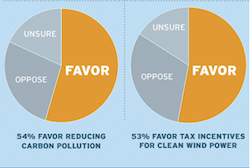 needs. And, clearly the shared views of Obama and democratic Senate candidates in Congress can only help them with these undecided voters."
Similar support among likely voters in battleground states for clean air and clean energy is seen across the board on such issues as increasing federal fuel efficiency standards for vehicles, reducing toxic mercury pollution, and boosting incentives for wind and solar energy.
"Even though polluters and their allies are spending tens of millions of dollars attacking clean air and clean energy, they haven't been able to change a simple fact: most Americans want clean air and energy and want polluters held accountable for the pollution they dump in our communities," added NRDC Action Fund director Heather Taylor-Miesle. "So the reality on the ground in these crucial swing states is that likely voters are not buying what the polluters are selling. Even more importantly, the people who will decide this election – the undecided – are not in the market for it either."
Click here to see more key findings from the eight swing state poll.