The National Biodiesel Board (NBB) is celebrating its 20th anniversary and its 10th biodiesel conference. Don't miss out on next year's event: Momentum – National Biodiesel Conference & Expo 2013. The conference will take place February 4-7, 2013 in Las Vegas. But in this case, what happens in Vegas should not stay in Vegas. The tips you learn, contacts you make and insights you gain into important biodiesel policy, cutting edge technologies and more will be things you want to take home and try out. That's why #3 on the list of the top 10 reasons that the National Biodiesel Board gives for attending the conference is…Bring it Home!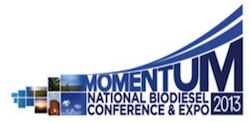 Here is a sampling of the some of the sessions you'll not want to miss.
Betting on Biodiesel: Will We Reach 100% B20 Approval?
RINtegrity
The Future is Unwritten: Going "All-in" with Biodiesel Feedstocks
Chain Link: Developing a Supply Chain for Biodiesel
State of the States: Legislative and Regulatory Update
You Say You Want an Evolution? How a Bioheat Campaign Created Change
You can learn more about Momentum as well as register online by visiting the conference website.