The Megawatt Solar Stations (MSS), developed by Solectria Renewables, have been chosen by the 5 megawatt (MW) True North solar farm in Salisbury, Massachusetts. When completed, the solar farm will be the largest solar installation in New England and the first direct-to-grid solar farm in the state. Power Partners MasTec awarded the project to Solectria due to its past successful projects and competitive cost per installed watt.
"We evaluated several inverter companies for this project. We found Solectria Renewables to be the best overall choice due to superior technical solutions, personalized service, and their knowledge and experience with large scale direct-to-grid projects,"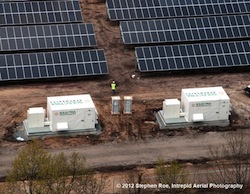 said Kevin Taylor, Group President, Mastec Renewables. "Solectria Renewables also had the lowest cost per installed watt and highest efficiency products of all the inverter manufacturers evaluated."
Five Megawatt Solar Stations (MSS) will be used to complete the project. Four stations are 1MW and one is 750 kilowatts. Each MSS is skid mounted and includes a factory wired 22.9 kV medium voltage transformer and switch gear to connect the inverters directly to the grid.
"We were honored to be selected by Power Partners MasTec to be the inverter manufacturer for the True North Solar Farm," said Scott Bowden, Director of Business Development for Solectria Renewables. "EPCs like Power Partners MasTec realize that Solectria Renewables' inverters provide them with the highest performance, reliability and efficiency in the market today. Massachusetts has some of the best solar initiatives and incentives in the United States and holds incredible potential for solar farms and installations."