USDA celebrated October National Cooperative Month and the United Nations International Year of Cooperatives with the release today of the top agricultural cooperatives and their revenues for 2011.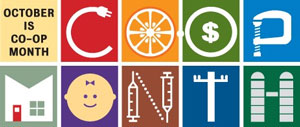 According to the release, farmer, rancher and fishery cooperatives posted record sales last year of $213 billion and $5.4 billion in net income, surpassing the previous record sales year of 2008 by $10 billion while besting the old income record by $500 million.
"These new cooperative sales and income records for 2011 underscore the strength and productivity of the nation's farmer- and rancher-owned cooperatives, and the vital role they play in the nation's economy," said Dallas Tonsager, under secretary for Rural Development. "Primarily because of mergers, the number of farm co-ops continued to decline, but memberships and asset values are up." Tonsager also noted that co-op employment levels remained strong, with cooperatives employing 184,000 full-time, part-time and seasonal workers, up slightly from 2010.
CHS Inc. of Saint Paul, Minn – an energy, farm supply, grain and food co-op – was once again the nation's largest ag co-op, with $36.9 billion in revenue in 2011, up by a whopping 50% from 2010. Part of the CHS cooperative portfolio is CHS Renewable Fuels Marketing, a leading ethanol marketer, and that part of the business helped the co-op boost revenues in 2011. The fourth ranked agricultural cooperative, GROWMARK, also markets biofuels under its energy division.
While not included under the list of agricultural cooperatives, Tonsager notes that "many of the ethanol plants across the country, or biofuels projects, either are cooperatives or cooperative-like institutions, where they are limited liability companies that have a democratic vote."
Listen to or download Tonsager's remarks here: USDA Under Secretary Dallas Tonsager