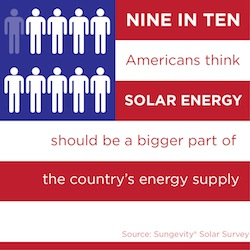 In a survey focused on clean energy, nine in ten (89%) U.S. adults agree that renewable energy sources, such as solar energy, should be a bigger part of America's energy supply.  The poll was conducted by Ipos on behalf of global solar company Sungevity. The survey showed strong support for solar energy with 80 percent of respondents expecting their elected officials to support solar energy initiatives. Eighty-one percent believe regardless of who is in office, the White House and other official federal and state residences should use solar energy.
"The continued uptake of solar power can drive considerable economic growth for the American economy and provide critical long-term benefits to the environment," said Danny Kennedy, co-founder of Sungevity and author of new book, Rooftop Revolution, How Solar Power Can Save Our Economy – and Planet – From Dirty Energy. "It's clear that Americans support and see the bottom-line benefits of solar power.  I'd encourage anybody with an interest in saving money, creating jobs and powering their home with clean energy to discover the ease and affordability of incorporating solar energy into their daily lives."
The survey shows that respondents see both the economic and environmental benefits associated with wider adoption of renewable energy. Eighty-one percent agree that reducing our dependency on coal, oil, nuclear energy and gas is the right thing to do for the environment and the economy.
Other key survey findings included: respondents support job creation; respondents believe solar energy will reduce energy costs; respondents believe more consumer education is necessary; and respondents believe there are still misperceptions about solar energy.
"The survey makes it clear that solar companies must do a better job communicating how easy and affordable it is to incorporate solar power into your home," added Kennedy.  "Whether it's the ability to design a solar system through our Sungevity website or getting a system installed for no money down through our solar lease program, companies like Sungevity are trying to make the customer experience with going solar as easy as possible."