There is another potential biofuel crop you don't hear much about being studied for the Southeast: napiergrass. The potential feedstock is currently used in the tropics to feed cattle, but according to the U.S. Department of Agriculture (USDA) scientist William Anderson, it could be a good biofuel feedstock as well. Napiergrass is fairly drought-tolerant, grows well on marginal lands and filters nutrients out of runoff in riparian areas says Anderson, who is a geneticist.
The study, recently published in BioEnergy Research, monitored several potential bioenergy crops including cane, napiergrass,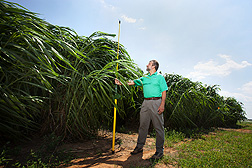 switchgrass and giant reed for four years and compared biomass yields and soil nutrient requirements. The team included Joseph Knoll, Timothy Strickland and Robert Hubbard, ARS scientists with the agency's Southeast Watershed Research Unit in Tifton, Georgia, and Ravindra Malik of Albany State University in Albany, Ga.
With the need for biofuels to be produced from diverse feedstocks, the Southeastern U.S. is expected to play a large role with longer growing seasons than other areas of the country. The team's initial research is showing that napiergrass could be a viable biofuel crop in the Southeast's southern tier. Although it is not as cold tolerant as switchgrass, it has other advantages including the ability to produce biomass until the first frost.
The research team is continuing to study napiergrass with an eye toward improving yields, usable fiber content, and disease resistance. They are also evaluating production systems that use chicken litter, synthetic fertilizer, and winter cover crops, as well as different irrigation levels, harvest times and planting dates. Preliminary findings in those studies show yields are sufficient without irrigation, and that there is little difference in yield when poultry litter is used instead of synthetic fertilizers.