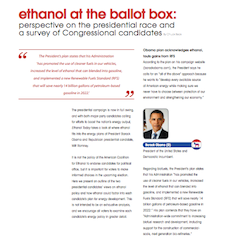 With the legislative races in the home stretch, the American Coalition for Ethanol has released survey responses covering key Congressional and Senate races across the country.
The two major party candidates in races including the Indiana Senate, Iowa Congressional Districts 03 and 04, Minnesota Congressional District 07, Missouri Senate, North Dakota Senate, and the South Dakota At-Large Congressional District responded to questions about keeping the Renewable Fuel Standard (RFS) intact, extending key cellulosic biofuel tax incentives, and reforming the tax code to provide a level playing field between oil and advanced biofuels.
ACE Executive Vice President Brian Jennings said while the organization would have preferred more candidate responses, the survey shows support for the RFS and other biofuel policy priorities. "Our survey reveals strong bipartisan support for the RFS and for leveling the playing field between oil and biofuels. In addition to making these survey results public, ACE will take a number of steps prior to the election to mobilize grassroots support for the RFS."
ACE surveyed candidates from select States and Congressional districts. Comments are included from those that responded. Those that did not respond were left blank. For those living in key areas where the races are heated, the survey is a good tool to learn about a candidate's view of biofuels before you head to the polls.