Three 20-kilowatt vertical axis wind turbines are now generating energy for Texas A&M University – Corpus Christi. The turbine trio is the largest vertical axis wind turbine installation of its kind in the United States as well as the largest of their kind. The main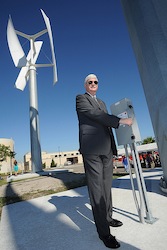 campus also installed a 4-kilowatt wind turbine that can be horizontally lowered and opened for education and research.
When the entire wind energy network is complete, there will be 11 wind turbines with a combined capacity of 92 kilowatts. The 20-kilowatt wind turbines are 75 feet tall, while the 4-kilowatt turbines stand at 40 feet.
"The wind turbine project is an exciting opportunity to show how the University is emerging as a leader in renewable energy," said President Flavius Killebrew. "This initiative will not only provide students and faculty with excellent learning and research opportunities, but will open doors for future generations who want to pursue this green technology." The turbines have real-time data collection for faculty and students in engineering to analyze on a network.
The initiative was funded by a $955,000 Distributed Renewable Energy Technology Stimulus Grant from the State Energy Conservation Office and the U.S. Department of Energy. The University then matched $265,000 in funds, for a total of $1.2 million for the project.
The wind turbines were distributed by 3eWerks, manufactured by Urban Green Energy and installed by Nouveau Construction and Technology Services.
According to Dr. L.D. Chen, associate dean of Engineering and Computing Sciences and director of the School of Engineering and Computing Sciences added that with the increase in community wind power technology and projects, the small wind turbines are an excellent laboratory for faculty and students.