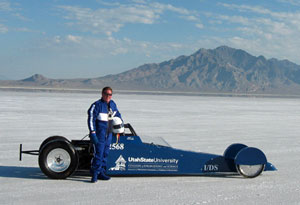 A team of engineering students from Utah State University has set a new land speed record using a car that burns a new form of sustainable biofuel made from a waste product of the cheese manufacturing process.
"How many people get to drive a car they helped build with fuel they created from a living microorganism?" asks USU undergrad biochemist Michael R. Morgan, who drove the dragster across Utah's Bonneville Salt Flats Speedway to its landmark finish earlier this month.
The Aggie A-Salt Streamliner, as it's officially known, runs on yeast biodiesel derived from the industrial waste of cheese production. The sleek, Aggie-blue hot rod was among some 200 high-tech racers competing at the Utah Salt Flats Racing Association's 2012 World of Speed event Sept. 8-11.
At its top speed, the Aggie vehicle clocked in at 65.344 miles per hour. At first glance, that speed may fail to impress NASCAR fans or even most interstate motorists. But make no mistake; it's a head-turning achievement for a biofueled vehicle with a one-liter, two-cylinder engine. The USU team raced the dragster in separate runs, using petroleum diesel and the yeast biofuel, respectively. Powered with the latter, the speedster was able to match its previous petroleum-fueled run.
"Developing a biofuel on a large enough scale to run in the dragster was a tough undertaking," says USU biochemist Alex McCurdy, a third-year doctoral student in Seefeldt's lab, who is supported by a National Science Foundation research assistantship and is the recent recipient of a departmental environmental chemistry award. "It's one thing to produce a small amount in the lab and discuss how it will work in theory. It's another to actually put it in a dragster, while everyone watches it take off."