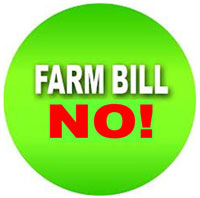 Congress left town last week without even considering a new farm bill in the House, leaving the current bill to expire at the end of this month. House Speaker John Boehner (R-OH) said they would deal with a farm bill after the election because he did not believe there were 218 votes to pass either an extension or new legislation.
"It just didn't have to be," said a frustrated Secretary of Agriculture Tom Vilsack on Friday. "They would have had 218 votes if they had worked it. It's really unfortunate."
Vilsack believes this is a set back to a thriving rural economy. "Rural America has great momentum that's been built with record exports, record conservation acres, record expansion in biofuels and biobased products," he said. "We want to add to that momentum and what we're doing now is creating this uncertainty which creates a real problem for momentum to continue."
Vilsack fears that Congress will not pass a new farm bill during the lame duck session, meaning the measure would have to wait until the new Congress, which means the already passed Senate bill would be dead and they would have to start from scratch.