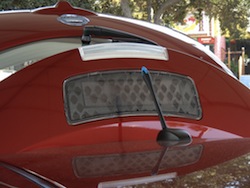 The 100 percent electric vehicle (EV) Nissan LEAF has scored a top rating on TotalCarScore.com as the number one car for commuting. The website scores vehicles based on evaluations from sources such as Consumer Guide, Edmunds.com, MSN Autos, The Car Connection and more. The "10 Best Cars for Commuting" was determined by the vehicle's total car score combined with its fuel efficiency rating in city-driving conditions.
"What we like about this list is that it truly measures the LEAF in the way it was intended—as a zero-emissions car with no-compromise performance," said Brendan Jones, director, Electric Vehicle Marketing and Sales Strategy. "Our data shows that Nissan LEAF owners drive an average of 31 miles per day, which makes it a perfect choice to meet the daily driving needs of most Americans."
The Nissan LEAF uses no gas yet still offers a number of great features including heated front and rear seats, heated outside mirrors, heated steering wheel, Automatic on-off LED Headlights, Navigation system, CARWINGS telematics service, Bluetooth® Hands-free Phone System and XM® Satellite Radio. Not enough? Drivers can add additional features including a Level 3 480V quick charge port, fog lights, photovoltaic solar panel rear spoiler (shown in photo) and RearView Camera Monitor.