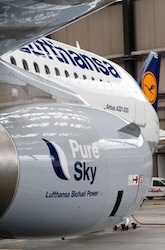 Lufthansa and Algae.Tec have created a partnership to construct a large scale algae to aviation biofuels production facility. The facility will be located adjacent to an industrial CO2 source. Lufthansa will arrange 100 percent funding for the project and has committed to a long-term offtake agreement of at least 50 percent of the crude oil produced at an agreed upon price. Algae.Tec , who will manage the facility, will receive licence fees and profits from the project.
Recently, the Advisory Council for Aviation Research and Innovation in Europe released a road map outlining the government and industry-funded research required to make Europe's Flightpath 2050 vision of reducing CO2 emissions 75% relative to 2000 by the middle of the century, a reality.
The agreement cements cooperation between Algae.Tec and Lufthansa for the industrial production of crude algae suitable for conversion into aviation kerosene and conventional diesel fuels. The algae oil produced in the facility will meet the European Union Renewable Energy Directive and shall be certified according to ISCC – Standard.