The Chambers for Innovation and Clean Energy, an information network for local chambers of commerce, is calling for Congress to extend the Production Tax Credit (PTC) for the wind industry. There are 240 chamber of commerce members from 47 states supporting PTC and in a letter explained that the expiration of the PTC would hurt local economies, send jobs elsewhere and risk ceding America's clean energy leadership to our global competitors.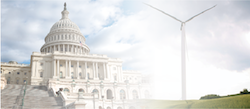 "As leaders of our local business communities, we've seen firsthand the economic development benefits of wind energy," said Jim Heeter, President and CEO of the Greater Kansas City (MO) Chamber of Commerce. "From Iowa and Kansas to South Dakota, Indiana, Texas and Ohio, wind energy is helping us attract new clean energy companies and capital, while making our existing businesses in manufacturing, construction and other sectors viable into the future. We need Congress to support our local communities by extending this critical tax incentive."
The PTC is seeing strong bipartisan support across the county and last week, a diverse coalition of groups from Iowa also called on Congress to extend the tax credit. The program is important as cities and regions across the country work on diversifying their local economies with the aid of renewable energy, including wind energy.
Nearly 500 facilities across 44 states now manufacture for the wind energy industry, creating new opportunities for American businesses up and down the supply chain. The Chambers for Innovation and Clean Energy cite that with the support of the PTC for wind, 60 percent of a wind turbine's value is now produced within the United States, compared to 25 percent prior to 2005.
"Local chambers know that for their local wind energy businesses and suppliers to grow, investors need certainty in the wind market," said Diane Doucette, Executive Director of Chambers for Innovation and Clean Energy. "The PTC is the key mechanism creating that certainty. We're already seeing layoffs throughout the industry as Congress stalls on the PTC. Allowing the PTC to expire would slow wind projects, decrease orders for our manufacturers, and result in even more jobs lost around the country."
As the chambers' letter states, the PTC has enabled the wind industry to slash wind energy costs by 90 percent since 1980, making wind energy a viable and cost-effective source of electricity in communities across the nation. Electricity prices are set by the operating costs of power plants, including the cost of fuel inputs. So once turbines are installed in a particular location, wind energy places downward pressure on local electricity prices.