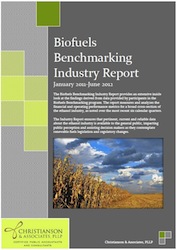 The 2011-2012 Biofuels Benchmarking report compiled by biofuels financial experts Christianson & Associates, PLLP (C&A) shows that despite the continual challenges facing the ethanol industry, it is doing well. The ethanol industry has shown resilience while implementing greener practices and production efficiencies even as margins tighten. The annual Biofuels Benchmarking report provides analysis of changes and trends for a broad cross-section of the ethanol industry over the most recent six quarters (January 2011-June 2012).
The information contained in the report is from actual production data gathered from ethanol plants throughout the U.S. and Canada who participate in the Biofuels Benchmarking program administered by C&A. During the past year some significant changes have taken place in the industry including the expiration of the "blenders credit" or VEETC.
John Christianson, principal partner at C&A, notes that although ethanol producers saw increasing challenges in 2012, the industry continues to mature and prosper. "By aggressively seeking out additional co-product revenue streams," commented Christianson, "plants can continue to remain profitable despite leaner margins."
The report contains an overall analysis of a variety of factors that contribute to plant efficiency and profit ability. It also highlights ethanol plant performance by geographic region and plant production capacity.