August was a strong month for biofuel production. According to the Environmental Protection Agency (EPA), biodiesel production for the month of August 2012 was 100 million gallons. Year-do-date biodiesel production is 757 million gallons. There was also 3 million additional gallons of biomass-based diesel produced during the month, raising the total category production under the Renewable Fuel Standard (RFS) to 103 million gallons in August.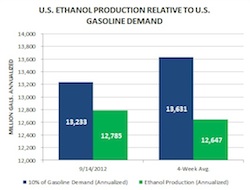 For the week ending September 14, 2012, ethanol production was also up with an average of 834,000 barrels per day (b/d) – or 35.03 million gallons daily. This is up 18,000 b/d from the week before, and the highest in 11 weeks. The four-week average for ethanol production is 825,000 b/d for an annualized rate of 12.64 billion gallons.
Ethanol stocks are at 19.3 million barrels, also up from the previous week and gasoline demand averaged 362.5 million gallons daily during the same week. Expressed as a percentage of daily gasoline demand, daily ethanol production was 9.66%–the highest since late June. In addition, ethanol imports averaged 58,000 b/d, or 2.4 million gallons per day. The four-week average for imports was 51,000 b/d for an annualized rate of 782 million gallons.
In terms of ethanol co-products, ethanol producers were using 12.645 million bushels of corn to produce ethanol and 93,077 metric tons of livestock feed, 82,979 metric tons of which were distillers grains. The rest is comprised of corn gluten feed and corn gluten meal. Additionally, ethanol producers were providing 4.34 million pounds of corn oil daily.