AGP Biodiesel based in Sergeant Bluff, Iowa, hosted Agricultural Secretary Tom Vilsack last week who is highlighting the Environmental Protection Agency's (EPA) action to increase the biodiesel amount required in 2013 under the Renewable Fuel Standard (RFS). The RFS was established by the Energy Independence and Security Act of 2007 (EISA) and specifies a one billion gallon minimum volume requirement for biomass-based diesel. Next year the volume will increase to 1.28 billion gallons. Biodiesel is the first and only biomass-based diesel considered an advanced biofuel under RFS.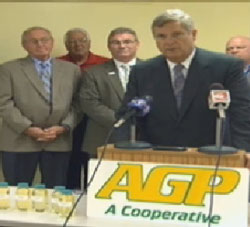 "President Obama's all-of-the-above energy plan is working – today, we are importing less foreign oil than we have in nearly two decades and we are creating jobs by producing more of our energy here at home," said Vilsack. "A key part of the President's strategy is the development and promotion of biofuels and bio-based products, which are helping us fuel our cars and trucks and displacing petroleum used in the manufacturing of household products. Over the past three years, we have doubled generation from renewable energy and today's announcement by EPA will ensure that we are continuing to utilize biodiesel to help meet our energy needs, create jobs and strengthen the rural economy."
In March 2011, the Obama Administration released its "Blueprint for a Secure Energy Future," laying out an 'all-of-the-above' energy plan to reduce the need for foreign sources of oil while also increasing energy efficiency and reducing the impact on the environment. Since Obama took office, domestic oil and gas production has increased each year and renewable energy generation from wind, solar, and geothermal has doubled.
Another Obama initiative is to create new and expanded markets for U.S. grown and manufactured agricultural products. Since August 2011, the White House Rural Council has supported a broad spectrum of rural initiatives including a Presidential Memorandum to create jobs in rural America through biobased and sustainable product procurement, a $350 million commitment in small business (SBA) funding to rural small businesses over the next 5 years, launching a series of conferences to connect investors with rural start-ups, and creating capital marketing teams to pitch federal funding opportunities to private investors.