Magellan Pipeline Company has completed a new biodiesel distribution facility in Des Moines, Iowa. The new equipment will allow for unloading, storage and blending of biodiesel at the terminal. The infrastructure upgrade will enhance distribution of biodiesel by making it simple for petroleum distributors to access pre-blended fuel.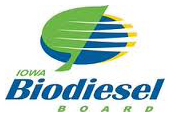 "Having biodiesel available at major distribution points is critical to maintaining the state's leadership position in biodiesel," said Randy Olson, executive director of the Iowa Biodiesel Board, where the announcement of completion was made during the association's annual board meeting. "Improved distribution capabilities will enhance consumer access to biodiesel, and help the state's biodiesel industry stand to capture a larger share of federal renewable fuel requirements nationwide."
Magellan's Director of Transportation & Marketing Shawn Barker said, "Magellan is pleased to offer biodiesel storage and blending services to our customers in Des Moines. This state-of-the-art system offers our customers accuracy, quality and a variety of biodiesel blend options."
Magellan received partial funding for the project from the Iowa Renewable Fuel Infrastructure Board, the Iowa Soybean Association and soybean checkoff program, and the Iowa Economic Development Authority (funded by the U.S. Department of Energy).