Nearly 65 entities in Iowa have come together from all walks including agriculture, education, labor, business, public health, and the environment, in a call to Iowa's congressional delegation to extend the wind production tax credit (PTC) for wind. A letter was sent to the legislators highlighting the wide reach of the wind industry from manufacturing jobs to income for farmers to the generation of taxes for rural communities.
The letter states: "The wind industry in Iowa has diversified our rural economy. Since 1992, 2,978 wind turbines have been installed on 104 utility scale and community scale wind farms. Iowa now has 4,322 MW of electric generation capacity and 450 MW are under construction. This represents nearly $5 billion funneling through Iowa's economy. Thousands of Iowans depend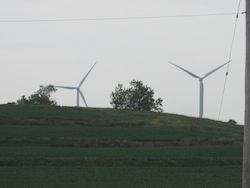 on the wind industry to support their families through construction, manufacturing, operations and maintenance jobs. In addition, land owner easement payments to farmers exceed $11 million annually and are extremely important in trying economic times."
Signers of the letter included the Iowa Wind Energy Association, the Iowa Environmental Council and Environmental Law & Policy Center. Other signers included the Iowa Farm Bureau; Iowa State Building and Construction Trades Council and all three public universities and every community college in the state; and the Iowa chapter of Physicians for Social Responsibility.
"We often remind people that wind supports as many as 7,000 jobs in Iowa," said Harold D. Prior, executive director of the Iowa Wind Energy Association. "This letter shows the breadth of the impact of wind, which ranges from our schools which are educating the renewable energy leaders of tomorrow, to the labor groups who are building wind in Iowa, to our farmers who benefit from the added income of land leases."
Renewable energy, including wind, is a hot topic in the presidential campaign and in the state campaign ads are running about the importance of the industry in Iowa.
Steve Falck, senior policy analyst with the Environmental Law & Policy Center in Des Moines said, "Iowa was the first state to generate 20 percent of its electricity from wind and we could get so much further. But without renewal of the PTC we the breaks will slam on Iowa wind, all of this economic progress will be reversed, jobs will be lost, and income for farmers will dry up."