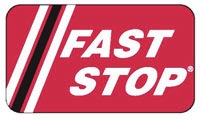 A new blender pump is opening today in Cresco, Iowa. Twenty-nine local investors applied and were approved for a Resource Enhancement and Protection grant (REAP). They group also received Iowa Infrastructure funding to aid with the costs of installation. The FAST STOP flex-fuel station is located at 22268 Highway 9 West, Cresco, Iowa.
During a grand opening event today from 10:00 am to 2:00 pm, the FAST STOP station offered discounts on all ethanol blends, E15, E30 and E85. To my knowledge, this is the first station in Iowa to sell E15 after it became a legal fuel last month.  In addition to ethanol, three blends of biodiesel, B2 and B10 and off road B5 are being sold. The biodiesel is GROWMARK'S Dieselex Gold premium fuel.
Several industry representatives were on hand during the event to help celebrate with FAST STOP. Groups included GROWMARK, AgVantage FS, Iowa Renewable Fuels Association and Iowa Corn Growers Association.