The Obama Administration has announced that there will be an increase in the biodiesel volume requirement for next year under the Renewable Fuel Standard (RFS). The Environmental Protection Agency (EPA) decision was released today in a draft proposal that would increase the requirement for biomass-based diesel to 1.28 billion gallons. This represents a modest increase from the industry's record production last year of nearly 1.1 billion gallons and puts the industry on course for steady, sustainable growth in the coming years.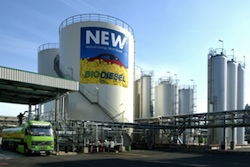 "This was an incredibly important decision, and the Obama Administration got it right," said Joe Jobe, CEO of the National Biodiesel Board (NBB), the industry trade association. "It will allow biodiesel plants across the country to invest and expand, creating thousands of jobs. At the same time, it sends a strong signal that the U.S. is standing firm behind its commitment to producing clean, American-made energy to strengthen our energy security and break our dependence on petroleum."
According to a recent economic study, the 2013 volume increase will support more than 10,000 new jobs. Already, the industry supports more than 39,000 jobs, with plants in nearly every U.S. state with Iowa leading the pack.
Biodiesel is the first and only EPA-designated Advanced Biofuel being produced on a commercial scale across the country. The "advanced biofuel" designation means that the fuel reduces greenhouse gas emissions by more than 50 percent as compared to traditional fuels. The EPA estimates that biodiesel reduces greenhouse gas emissions by 57 percent to 86 percent depending on the feedstock and production technology.
"We applaud President Obama and EPA Administrator Lisa Jackson for supporting an 'all of the above' energy approach. We also want to thank Agriculture Secretary Tom Vilsack for his strong advocacy," added Jobe. "This decision will continue to diversify our fuel supplies so that we're not so vulnerable to global petroleum markets and this endless cycle of price spikes. The Renewable Fuel Standard is clearly working to do that, and the benefits of doing so are clear: We'll continue to create good jobs, expand our economy and reduce harmful emissions. It's just smart energy policy."