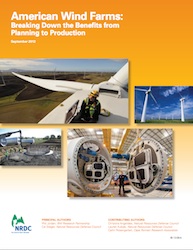 According to a new report, "American Wind Farms: Breaking Down the Benefits from Planning to Production," released by the Natural Resources Defense Council (NRDC), on average a 250 megawatt wind farm will create 1,079 jobs throughout the sector including manufacturing, construction engineering and management. Yet, NRDC says the benefits don't end there. A second study, "At Wind Speed: How the U.S. Wind Industry is Rapidly Growing Our Local Economies," on the secondary impacts of wind energy also shows that wind farms help to revitalize communities by generating new taxes, lease payments to landowners, and economic development revenues.
While the wind industry generates around 50,000 megawatts of clean energy and employs nearly 75,000 Americans, it is in jeopardy because Congress has not renewed the 2.2 cent per kilowatt Production Tax Credit (PTC) that's set to expire at the end of this year. The Senate is expected to take up the PTC as early as this week.
NRDC policy advocate Cai Steger, co-author of the report, said: "Every time a wind farm gets built, American jobs are created. These reports show what the PTC has done for the wind industry – and why it's essential that it is extended."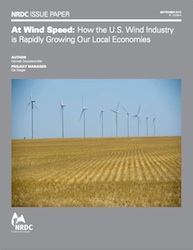 The NRDC supply chain report says that jobs are created at 14 different steps along the way of building a wind farm. Non-construction businesses account for an estimated 557 jobs. They include 432 workers in manufacturing, 80 in planning and development, 18 in sales and distribution and 27 in operations and maintenance.
Construction jobs add another 522 jobs to a typical wind farm. These workers are spread between three categories, with 273 working on on-site civil works, such as roads, and foundations; 202 working on the installation of the wind turbines and 47 working on on-site electrical work, such as grid connection.
Colorado Sen. Michael Bennet is leading efforts in the Senate to extend the PTC. "The case is clear. The wind energy industry supports jobs and drives economic development. It's time for Congress to make extending the bi-partisan wind PTC a top priority. In Colorado and across the country, workers are already paying the price for Congressional inaction on the PTC. Those jobs losses are only a glimpse of what could happen if we let the tax credit expire."