ReadiJet Fuel, a drop-in renewable fuel for aviation use, is ready to fly the skies. Developer Applied Research Associates (ARA) along with Chevron Lummus Global (CLG), are partnering with the National Research Council of Canada (NRC) and the U.S. Air Force Research Laboratory to evaluate the fuel in flight. The fuel, produced under contract to AFRL, was produced by ARA from Agrisoma's Resonance feedstock crop (mustard oilseed family) using CLG's and ARA's Biofuel ISOCONVERSION process.
The jet fuel will first be tested by ARA and NRC against ASTM standards and military specifications in ground based engine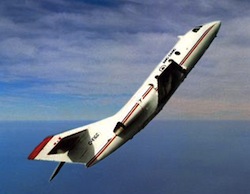 tests. Once ReadiJet is given the green light, a test flight will occur with the NRC Falcon-20 twin engine jet. According to ARA, this will be the first time in the world a jet aircraft is powered by 100%, un-blended, renewable jet fuel that meets petroleum jet fuel specifications.
"The integrated ARA/CLG Biofuel ISOCONVERSION process and Agrisoma's Resonance feedstock provide a pathway for fulfilling the commercial and military markets' requirements for alternative fuels at parity with petroleum while spurring opportunities for farmers," said Chuck Red, ARA's Alternative Fuels Program Lead. "We look forward to this partnership with NRC to help us validate the combination of Canadian developed and grown feedstocks and our processing technology as a leading alternative fuel solution."
During the test flight a second aircraft, the National Research Council's T33 jet, will fly behind the Falcon 20 to measure the emissions of the engine operating on both the ReadiJet biofuel and on conventional petroleum-based aviation fuel. Systems onboard the Falcon 20 will allow NRC's flight research team to switch back and forth between the two fuel types throughout the flight. These data will be used to evaluate biojet fuel emissions of an aircraft engine operating on 100% biofuel. The end goal is to validate the jet fuel for use by the aviation industry.