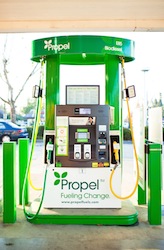 Sacramento, California has a new biofuels station selling both E85 and biodiesel. The station owned by Propel Fuels is co-located at the Mak's Valero station at 1101 Broadway in downtown. The renewable fuel station is located near I-80, Business Route 80, I-5, Highway 50 and Highway 99. This is the ninth Propel station in the Greater Sacramento area due to consumer and fleet demand.
As part of the opening celebration running September 11-14, Propel will provide Sacramento drivers and fleets with $10 of free E85 Flex Fuel or Biodiesel. The free fuel promotion encourages local drivers to experience the quality and performance of renewable fuels.
"Fleets and families in greater Sacramento have shown us that access to renewable fuels is important to them, so we're continuing to grow our network of stations here," said Matt Horton, CEO of Propel. "This is an ideal location, conveniently situated near both the freeway network and downtown, where new fueling stations aren't common. We're excited to be partnering with Mak's to bring increased fuel choices to downtown Sacramento drivers while helping make progress toward our nation's clean energy goals."
Today over one million California drivers can use E85 in their flex-fuel vehicles or biodiesel in their diesel vehicles. Sacramento actually has the largest number of renewable fuels stations in any city across the state due to the high number of fleet users and consumer users. These drivers can also track and report CO2 emission reductions as a result of their renewable fuel choice at a Propel pump through the company's CleanDrive program.