Flex fuel vehicles in Nebraska are on the rise. The state has shown an increase of FFVs by more than 20 percent from last year with greater than 143,000 registered in the state. FFVs can run on ethanol fuel blends up to E85 (85 percent ethanol, 15 percent gasoline). Many drivers are unaware they have an FFV. Most FFVs now have yellow gas caps and/or an FFV logo on the back of the vehicle. Still not sure? Check the U.S. Department of Energy's website to identify all makes and models of flex fuel vehicles.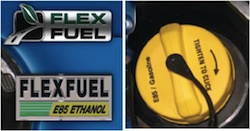 There are several benefits for FFV drivers: saving money, reducing greenhouse gas emissions, and supporting Nebraska's economy. Several Nebraska fuel stations are selling E85 at 68 cents per gallon under regular unleaded prices. But economic studies have found that ethanol lowers gas prices for everyone – even non-FFV drivers – by extending our gas supply.
"FFV drivers have an opportunity to make more fuel choices at the pump," said Todd Sneller, Nebraska Ethanol Board administrator. "These choices have the additional advantage of lower prices than gasoline. More drivers are realizing the benefits of renewable fuels like ethanol by switching to FFVs."
Tomorrow, FFV drivers in Nebraska can save even more. Two gas stations in Grand Island are offering discounts on ethanol fuels on September 12 from 11-am to 1 pm. The stations are Pump & Pantry, 1235 Allen Drive, and Aurora Cooperative A-Stop at 4155 E. Hwy 30 in Grand Island.
Drivers of flex fuel vehicles can find details about additional ethanol fuel promotions by checking the Nebraska Ethanol Board web site.