Another school district has taken advantage of the California Sun. Jurupa Unified School District has completed a 2.7 megawatt solar and energy efficiency program expected to reduce energy costs by nearly 26 percent among 27 school sites. Estimates show that the solar system should save nearly $34 million in energy costs. Solar Photovoltaic panels were mounted on parking and shade structures on nine campuses.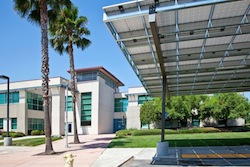 "Today marks the beginning of a new chapter for environmentally sustainable operations at Jurupa Unified School District – one that allows the community to experience the benefits of clean power without negatively impacting limited resources," said school district Superintendent Elliott Duchon. "We are pleased about the work Chevron Energy Solutions has completed to enable Jurupa Unified School District to bring the benefits of solar energy to our community."
In addition, old air conditioning units were replaced and the schools upgraded 21,000 light fixtures. The changes to more energy efficient technologies were coupled with an energy education curriculum designed to inspire students to learn about and experience clean energy technologies. Chevron Energy Solutions designed, engineered and installed the solar system. The company also implemented the energy efficiency projects.
"Through this program, Chevron Energy Solutions is helping Jurupa Unified School District demonstrate fiscal and environmental leadership," said Chevron Energy Solutions President Jim Davis. "The District is investing in sustainable programs designed to deliver ongoing value and improve the learning environment for the community's students."