Renewed World Energies (RWE) has agreed to enter into a partnership with ReVenture Park in Charlotte, North Carolina to develop an algae-to-fuel pilot plant. The Eco-Industrial Park caters to clean energy businesses and will work with RWE to expand its technology from pilot scale to commercial scale. The company is developing different strains of algae that will be utilized to create biofuels as well as health supplements. The pilot facility is expected to be operational September 30, 2012.
There are numerous species of algae and each one has its own unique characteristics. One goal of researchers is to identify and develop strains that are best fits for certain uses, such as to produce jet fuel or for use as a replacement for oil in cosmetics, food and fertilizer. RWE's system produces algae oil and algae cake, which can be fed as a food supplement to livestock or to make fish feed.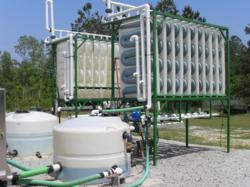 RWE President Richard Armstrong founded his company in South Carolina but chose North Carolina to take it to the next level. "We were attracted to the eco-industrial synergies at ReVenture Park. North Carolina also seems to be more attuned to the renewable fuels, and offers multiple benefits for showcasing new technology."
ReVenture Park took advantage of nearly 700 acres of abandoned land that was a former textile dye-manufactured site. It is now being transformed into an Eco-Industrial Park focused on research and development of clean technology.
"We are pleased to have struck a deal to have RWE move a facility to ReVenture," said Tom McKittrick, President Forsite Development. "RWE was attracted to the sites extensive existing infrastructure which then can utilize and there are multiple opportunities for us to collaborate."