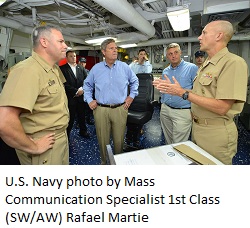 US Agriculture Secretary Tom Vilsack went aboard the USS Monterey at the Naval Station Norfolk to highlight the commitment the military is making to advanced biofuels. He was joined by Deputy Assistant Secretary of the Energy for Navy Tom Hicks.
"Developing the next generation of advanced biofuels for our nation's military is both a national security issue and aneconomic issue," said Vilsack. "By utilizing renewable energy produced on American soil, our military forces will become less reliant on fuel that has to be transported long distances and often over supply lines that can be disrupted during times of conflict. Meanwhile, a strong and diverse biofuels industry will support good-paying jobs in rural America that can't be shipped overseas. Through this joint effort, USDA and the U.S. Navy have the opportunity to create a model for American energy security while ensuring the safety of our troops and the long term viability of our armed forces."
"Secretary Vilsack's leadership and the work carried out by USDA on alternative fuel is so critical to the Navy's efforts to address a critical military vulnerability; our reliance on foreign oil," stated U.S. Navy Secretary Ray Mabus.
Earlier this summer, the U.S. Navy's "Great Green Fleet," a carrier strike group, including aircraft and surface ships, ran on biofuels off the coast of Hawaii as part of the Rim of the Pacific Exercise (RIMPAC). The Navy, USDA and the Department of Energy recently announced $30 million in funding for "drop-in" biofuel substitutes for diesel and jet fuel.