Kohl's is expanding its electric vehicle (EV) charging station initiative with 36 new stations across 18 different locations in the U.S. Once the additional EV stations are complete this fall, the company will have 101 charging stations at 52 Kohl's locations across 14 states. Customers are able to charge up at no cost while they shop.
"Since Kohl's EV charging station initiative began in December 2011, it has received extremely positive feedback from our customers who are excited about the added convenience," said John Worthington, Kohl's chief administrative officer. "From our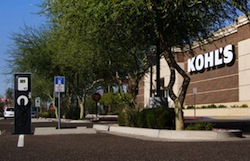 solar program to our green building efforts, Kohl's has been pleased to be able to grow sustainability programs that make sense for our business, customers and communities – and our EV program is one more great example."
The program is a partnership between Kohl's, Duke Energy, ChargePoint, and ECOtality. In Indiana, the company worked with Duke Energy to install six charging stations as part of Indiana's Project Plug-IN. The company has expanded its partnership with ECOtality to install 30 EV charging stations at 15 Kohl's in Illinois, Texas and Wisconsin.
Drivers can activate the charging stations in several ways including radio frequency identification (RFID) cards available at Kohl's customer service desk or via phone numbers provided on the charging stations.