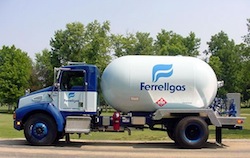 One of the nation's largest propane retailers, Ferrellgas Partners, has acquired Capitol City Propane of Sacramento, California. The transaction will add to Ferrellgas's customer base within California as well as strengthen its presence throughout the state.
"Capitol City Propane has a more than 20-year tradition of providing safe, reliable service to industrial and residential propane users in and around Sacramento," said President and Chief Executive Officer Steve Wambold. "We're thrilled to welcome this outstanding business, its employees, and its customers to the Ferrellgas family."
While this is the company's first acquisition in the current fiscal year, Ferrellgas has completed nearly 235 acquisitions during its 75-year history. This strategy has helped the company become one of the largest propane companies in America.