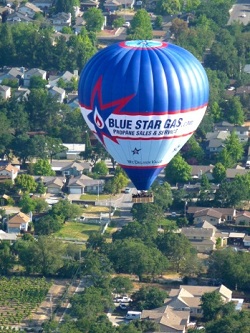 West Coast propane distributor Blue Star Gas is rising to new heights… literally! The company is partnering with Wine Country Balloons to launch the largest hot air balloon in California's Sonoma County. Flights will carry passengers over the picturesque areas of Napa, Sonoma and Lake Counties, as well as the Russian River and the Wine Country.
"Propane has fueled modern hot air balloons for the last 50 years, and we're proud to continue such a celebrated pastime with this beautiful new balloon," says Blue Star Gas President Jeff Stewart, whose family has owned the company for three generations. "For decades, Blue Star Gas has supplied clean, reliable propane to area residents and businesses alike — it's the same efficient energy that now fuels the Blue Star Gas balloon and, incidentally, also an EPA-certified, clean-burning alternative motor fuel."
"We've relied on Blue Star Gas for years to power our balloons," says Captain Scott van der Horst, owner of Wine Country Balloons, "so we're pleased to work with them on such a massive balloon. Most people don't realize the fuel you use for so many domestic purposes also flies hot air balloons across the skies of California's wine country and around the world."
The balloon can carry as many as 20 passengers. More information is available at WineCountryBalloons.com.