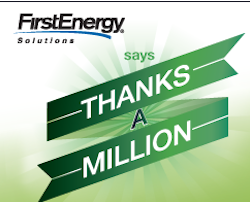 Ohioans who sign up to secure a low electric generation price for four to seven years have a chance to reduce their energy bills with FirstEnergy Solutions' Thanks a Million giveaway. Eight residential winners will each receive $25,000 and $50,000 will also go to the winner's corresponding local school district to use for an under-funded program, supplies or however they need to use the money as long as it is for the betterment of the school. In addition, eight Ohio businesses will each win $50,000.
The contest runs through October 31, 2012 and to be eligible, a resident or business must enroll in an electric generation offer that would freeze the per kilowatt-hour (kWh) price at 6.99 cents on electric generation until 2019, or 6.49 cents per kWh until 2016. This would fix electric prices for four or seven years, helping businesses and residences budget their energy costs for the future and not have their budgets negatively impacted if electricity prices go up.
"As an Ohio-based company, FirstEnergy Solutions is committed to helping Ohio's residents and businesses through this sluggish economy, which is why we created our Thanks a Million giveaway," said Donald Schneider, President of FirstEnergy Solutions. "It's a good boost to our economy and it directly benefits eight Ohio school districts with much-needed funding."
Schneider said that today the country is seeing historically low prices in the energy market but they are not sustainable. There are signs pointing to increased costs including environmental compliance and plant retirements that will raise energy prices. By locking in electricity prices, concluded Schneider, customers could potentially see considerable saving over the long term.