During the Farm Progress Show, Cindy Zimmerman had the opportunity to sit down with new POET Chief Executive Officer (CEO) Jeff Lautt. Although he has been with the company for nearly eight years, he took the helm as president two years ago and several months ago was tapped as CEO.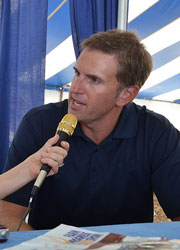 Lautt has taken over in a tough year for the ethanol industry as it deals with a major drought that has affected the U.S. corn crop. The main feedstock for all POET ethanol plants is corn. Lautt said the plants are doing well but they are feeling the same pains as other ethanol producers. However, he said, the bigger problem for them is not the high corn prices but access to the market. The industry is currently capped at 10 percent of the fuel market and they are working hard to get equal access in the marketplace. A first step toward this is E15 and the first two stations selling E15 in the country are located in Kansas.
Similar to others in the ethanol industry, Lautt said his company is not in favor of a waiver of the Renewable Fuel Standard (RFS). He said that the legislation is working, the market is working, and knew-jerk decisions shouldn't be made during a drought. Lautt noted that the RFS includes advanced biofuels, biodiesel and cellulosic fuels and implementing a waiver would not just hurt corn-based ethanol but all biofuels. He added that the industry doesn't need a government solution.
Lautt also gave an update on Project Liberty, the company's project to commercialize cellulosic ethanol using corn stover. One of the things they are learning right now is how to harvest the stover as well as store the stover, which may vary based on the environmental state of stover (i.e. wet, dry, etc.).
Listen to Cindy's interview with Jeff Lautt where he also discusses some new technologies in the pipeline: Getting to Know POET's new CEO