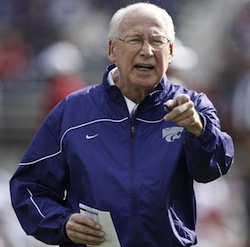 Kansas State University head coach Bill Snyder is playing for ethanol. He has become a spokesperson for a radio campaign to promote the benefits of ethanol sponsored by the Kansas Association of Ethanol Producers (KAEP). The radio ads are part of a season-long ethanol promotion and will be aired on KSU's 33-station network during all regular season football games and Bill Snyder Show radio call-in shows. The first program airs on August 30, 2012 at 7:00 pm CDT.
The ethanol industry will also serve as the official game sponsor of the K-State vs. North Texas football game on September 15, hosting a tailgate party for their fuel retailer customers and providing the game's halftime interview.
"KAEP is thrilled to be partnering with Kansas State Football and our agricultural friends on this exciting opportunity to share the message of ethanol's benefits to the economy and environment," said Mike Chisam, general manager of Kansas Ethanol, LLC and KAEP Board Chairman. "We hope that all football fans will learn more about how they can join us in advancing Kansas' home grown fuel."
The Kansas Corn Commission, Kansas Sorghum Commission and Growth Energy are also participating with KAEP in the promotion.