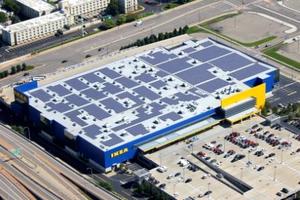 I must confess to you readers that I have furniture by IKEA in my home and in fact, drove to Minneapolis/St. Paul for a weekend just to go shopping. Now, this same store officially plugged-in its new solar panels installed in its Twin Cities store in Bloomington, Minnesota. The 128,000 square-foot PV array consists of 1,014 kW system built with 4,316 panels. It is now the largest photovoltaic array in the state and is estimated to produce approximately 1,161,328 kWh of clean electricity annually.
The rooftop solar energy system is the 31st completed project for the company with eight projects still under construction. Design, development and installation was overseen by SoCore Energy.
"We at IKEA believe in the never-ending job of improving the sustainability of our day-to-day business," said James Organ, IKEA store manager.  "The Twin Cities coworkers are excited to contribute to this goal with our newly operational solar panels.  We appreciate the support of the City of Bloomington, Xcel Energy and SoCore Energy, our partners in this project."
Today, 89% of IKEA stores in the U.S. are powered with solar with a total generation of 38 MW. IKEA owns and operates each solar PV system and globally has allocated €590 million to invest in renewable energy, focusing on solar and wind during the coming three years.