Trains may not run on alternative fuels just yet, but one of the companies that provides railroad crew transportation solutions does. Rezenberger recently unveiled ten 2012 ROUSH CleanTech propane autogas fueled Ford E-350 shuttle vans for its California fleet.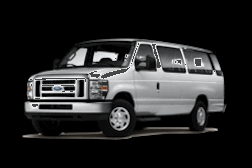 The unveiling took place during an event called "Less Traffic, Lower Emissions — Crew Transportation Company Rides Clean with Propane Autogas," held at the BNSF San Bernardino Intermodal Facility. During the event key members of the Rezenberger and ROUSH CleanTech team showcased the benefits of propane. Attendees were able to experience the performance of propane by test-driving the vehicles.
"Choosing propane autogas to fuel our fleet vehicles has allowed Renzenberger to reduce the carbon footprint of our company and lower fuel costs, while providing a safe, sustainable and reliable transportation solution to transport California employees," said Karen Seitter, president of Renzenberger. "This area is known for congestion, and we are reducing both traffic and emissions."
When considering the switch, Renzenberger estimated they will save nearly $14,500 per vehicle in fuel costs each year. This is important because the company logs more than 60 million miles each year transporting railroad, oil and gas and its employees to and from work sites across the country. The company has a private on-site station at its San Bernardino, California location and also takes advantage of public propane autogras stations across Southern California.
Todd Mouw, vice president of sales and marketing for ROUSH added, "We are excited to help Renzenberger achieve their safety and sustainability goals with this clean-burning alternative to gasoline. Renzenberger plays an important role in safely transporting railway crew from job site to job site. They're now able to do this cleaner, safer and less expensively using propane autogas."