The newly formed Biofuels Producers Coordinating Council sent a letter this week to President Obama in an effort to stress the importance of the Renewable Fuel Standard (RFS). Many organizations have been calling for a waiver of the RFS due to severe drought conditions this summer but the ethanol industry says that the RFS was developed to allow flexibility for various situations including severe weather conditions. The letter also explains several counterintuitive consequences of waiving the RFS.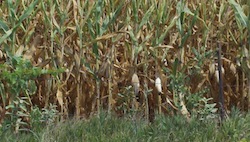 One of the Biofuels Producers Coordinating Council members, Growth Energy, said about the letter, "While the Environmental Protection Agency has the fiduciary duty to review the petitions filed by state governors, I felt it was critical that the industry communicated the importance of the RFS and how a waiver will not accomplish the goal of bringing down grain prices," said Tom Buis CEO of Growth Energy.
The Council says that blaming ethanol industry is disingenuous and misplaced and in the letter addresses much of the misinformation. For instance, the letter says, ethanol production does not use 40 percent of the corn, only 16 percent of the total net corn acreage. The starch is removed and the fiber is used for animal feed. In addition, the Council says the market is already working in the response to high commodity prices.
One other fact the Council points out is that obligated parties will continue to use ethanol blends in gasoline because it remins the cheapest way to increase octane. Should ethanol be removed from the fuel supply, gas prices would go up, not down, and negatively affect consumers.
In conclusion, the letter says that one isolated event should not dictate policy decisions. Click here to read the letter in full.