Minneapolis, Minnesota is the home of the Export Exchange 2012 on October 22-24, 2012. Co-sponsored by the U.S. Grain Council and the Renewable Fuels Association (RFA), past events have attracted nearly 400 people from more than 30 countries ranging from domestic industry leaders to international buyers.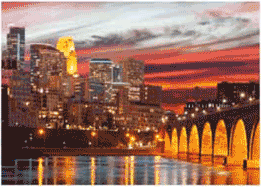 There will be many topics of discussion including a big picture overview of key factors that will drive global food and agriculture over the next decade. Other topics will include a review of U.S. and global supply and demand outlook for coarse grains in the coming year. The presentation by Chief Economist of the U.S. Department of Agriculture (USDA) Dr. Joe Glauber will touch on the 2012 harvest and its potential impact on world and domestic consumption and trade patterns.
Along with Dr. Glauber, Carl Casale, CEO of CHS will be the keynote speaker giving a global market outlook, RFA Present and CEO Bob Dinneen will discuss U.S. agriculture and energy policy, and Dr Michael Boland, Director of the Food Industry Center at the University of Minnesota will discuss the economic characteristics of the agrifood supply chain.
Registration is currently open. You can learn more about the conference and register online by visiting the Export Exchange 2012 website.